Question:
How do I setup and use the Video Transcoder in Acquire Editor?
Answer:
The FFmpeg Video Transcoder is designed to convert video (and audio streams) to a standard .avi for a more stable and reliable video playback format.  It can also convert Graphics files to a more suitable format.  To start, you will need to download FFmpeg and choose the correct Operating System that you are using.
Once you have the zip folder extract all to a suitable location and find the folder called bin.  Locate and copy the ffmpeg.exe into a desirable folder location (not the Desktop).  This can be the Acquire main folder or an alternative file location of your choice, e.g. C:\FFmpeg 
Video Transcoder Settings 
In the Settings window you can select the Transcoder to convert: Never, Always or Ask
Specify the path of the Transcoder Executable, e.g. C:\FFmpeg 
You can change Parameters, e.g. change the output file to HD Portrait.avi, HD Landscape.avi, etc.
Set File Types: All supported, Video or Graphics.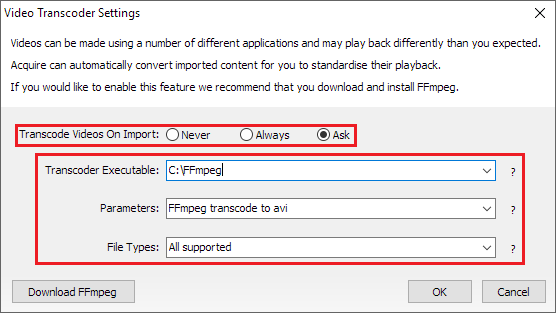 Once you are happy with the Settings, click OK to Save.  Depending on your selection to Transcode Videos on Import now when you add a Media file in to a Project, Acquire Editor will either Transcode the file automatically or provide a prompt. 
To change Settings, click Editor and select Video Transcoder Settings...