Question:
While I have video media content playing in the Acquire Player, I can see the video content is not as clear, especially on the edges of texts.
Resolution:
Firstly, check to see if the file is able to correctly play in Windows Media Player.  If so, is it likely the file is being decoded differently in Acquire Player.  You should check the installed Codec Pack and their preferred order.
One option to take if you are experiencing this, is to change the Video Display mode. Please see below steps required to make this change.
Press ESC when media is playing in Acquire player, this should load up the Acquire Settings Menu.
Click on the Player Settings Tab.
Under the Video Display Mode change the setting to DirectShow - VMR Windowed or DirectShow - Normal. You may find also the other options in this settings will help make the video play more clearer.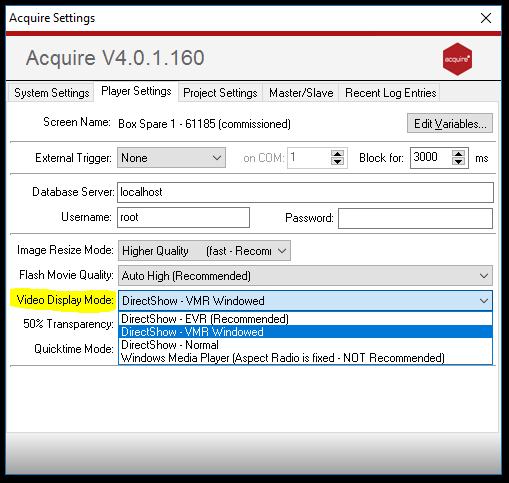 Further information can be found on Wikipedia on Interlaced video
Please note: whilst the above may provide a temporary solution and may impact other content, you should ensure that videos are rendered using Progressive (not Interlaced as this is a older technology and was used for CRT displays).