Question:
I have just installed Acquire Player on Windows 8.1 but when the PC is restarted I only get the Windows tiled view (Start Menu) with missing icons and Acquire Player does not automatically show up as expected. Sometimes it will show up if I press the Windows key on the keyboard, why this does occur and how can it be resolved?
Resolution:
By default Windows 8.1 will load in to the Start Menu or Metro view. As System Sentinel will be locking access to the Windows UI (User Interface) this may result in the menu appearing blank.
We recommend you disable this setting, by opening the Taskbar and Navigation properties. To do this right-click on the Taskbar and select Properties. On the Navigation tab, select When I sign in or close all applications on a screen, go to the desktop instead of Start and click OK.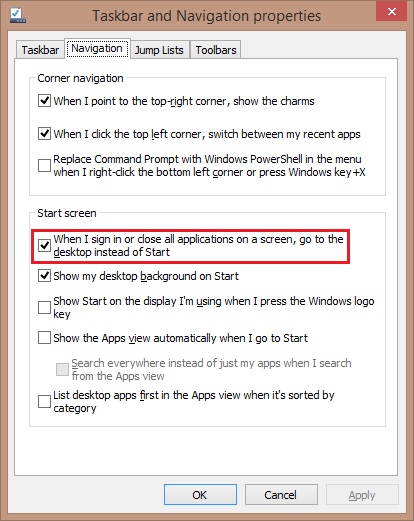 Reboot the PC and Power Off and On to test. Acquire Player should now launch immediately, if you still find the issue occurs. Press Esc and enter your Pass-phrase to show System Sentinel. Click Settings and Lockdown Settings, ensure Disable Windows Start Menus is selected and click OK, then Reboot to test.