Question:
When trying to use Acquire Editor via Remote Desktop Connection on a MAC, I get Exception EDirectShow error but works ok when I attempt to use this locally, why?
Resolution:
This error message is caused by an incompatibility between Mac OS X and DirectShow, as Acquire Editor is a 32-bit application and does not need additional components to run.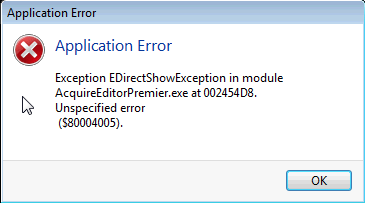 If you require remote access to your Acquire Editor from a Mac, there are other alternatives such as TeamViewer or LogMeIn. Acquire Editor can also be installed inside a Virtual Machine on your Mac, using software like Parallels.