Question: 
Whilst trying to activate an Acquire Player, I am getting this message: The integrity of this licence key has been compromised.  This appears even though this Licence Key has not been used and should have enough seats available for me to use, why does this occur?
Resolution:
Typically if you have upgraded your Acquire software or have used a different Licence Key on the Acquire Player you are trying to activate, without properly deactivating the old one first may cause the to integrity of the key to be compromised.
If you do see the the image below, the you must Submit a Ticket to Acquire Digital Support.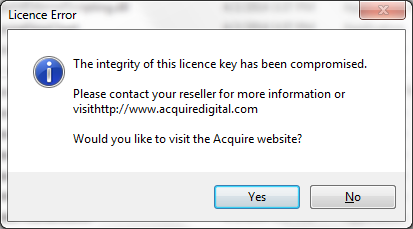 Please include your Name, Organisation, Contact details and Licence Key Number with licence key compromised in the Subject field.  Once your details have been verified we will send a Licence Key Repair Tool.
You must run this tool, to generate a Challenge Code, which then should be emailed to us on the same ticket thread.  We then will provide a Challenge Response Code for you to enter in to the tool.
IMPORTANT: once you have generated a code and sent this to us, you must NOT close the Window.  Doing so, will mean you will have to generate a new code.  Please also allow up to 48 business hours to receive your Challenge Response Code.