Question:
When trying to launch Acquire Editor on Windows Server 2008 R2, I receive an Application Error dialog box and it fails to load, why?
Resolution:
You may find that a security feature known as Data Execution Prevention (DEP), in Windows 7 or particularly in Windows Server 2008 R2 can prevent the Acquire executable from running and you may see an error such as the one shown below when trying to open Acquire Editor.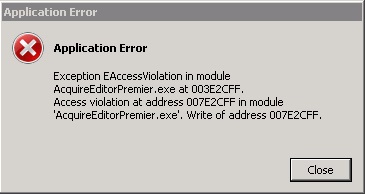 If this occurs then please Disable Data Execution Prevention (DEP) to test.
IMPORTANT: please use this feature with care and at own risk, as by disabling this feature entirely, you may increase the opportunity for viruses and other security threats on your system and therefore using the setting per application is highly recommended.